Air Defense
---
Henan Dingli Civil Air Defense Equipment Co., Ltd. is located in the industrial agglomeration area of ​​Xiping County, Henan Province. It is a professional company engaged in the production, installation, sales and maintenance services of civil air defense engineering protective equipment and protective ventilation equipment. The company was established with the approval of the Henan Provincial Administration for Industry and Commerce in December 2014, and passed the acceptance of the National Civil Air Defense Office, the National Survey and Design Association, and the Civil Air Defense and Underground Space Branch, and issued the "Certificate of Competence in the Production and Installation of Civil Air Defense Special Equipment". The certificate number is: Civil Air Defense Special Equipment Enterprise Certificate No. 0115. The company has a registered capital of 10 million, and all kinds of professionals are fully equipped, including many professional engineers, senior structural engineers and technicians who have been engaged in the installation and production of civil air defense projects for many years.
The company has modern production equipment and testing equipment, the main production equipment are large hydraulic pendulum shearing machine, large hydraulic CNC bending machine, CNC flame (plasma) cutting machine, large radial drilling machine, CNC plane drilling machine, large vibration platform , CNC mixing station, intelligent curing kiln, electric single (double), beam crane, sand blasting or shot blasting rust removal equipment, painting facilities, shape correction equipment, internal stress relief equipment, etc.; mechanical processing equipment: CNC lathes, ordinary lathes , planer, CNC universal milling machine, punch, etc.; the main testing equipment are: universal material testing machine, impact testing machine, CNC direct reading spectrometer, weld magnetic particle flaw detector, weld ultrasonic flaw detector, hardness tester, roughness detector, ultrasonic Thickness Gauge, Coaxiality Tester, Flatness Tester, Tensile Tester, Verticality Tester, Paint Film Adhesion Crossbar, Paint Film Thickness Gauge, Reinforced Concrete Scanner, Rebound Tester, Air Tightness Measurement device etc. The company has complete production and testing equipment, strong technical force and advanced management methods. The main products include reinforced concrete protective equipment of various specifications and models: protective doors, protective closed doors, closed doors, and shutters made of reinforced concrete for the door leaf material; manual protective equipment for steel structures of various specifications and models: the material is steel, and the opening and closing methods are Manual protective door, protective airtight door, airtight door, valve, airtight observation window, blocking plate; all kinds of valves: airtight valve, explosion-proof floor drain, explosion-proof wave gate valve; subway and tunnel main line protective airtight door and various anti-flooding doors ; Various non-standard protective doors; air defense and chemical wartime ventilation equipment, etc. At the same time responsible for the installation of various protective equipment and civil air defense engineering maintenance.
The company has established scientific research and cooperative relations with scientific research institutions, etc., and strictly follows RFJ01-2008 "Civil Air Defense Engineering Protection Equipment Selection Atlas", RFJ01-2002 "Civil Air Defense Engineering Protection Equipment Product Quality Inspection and Construction Acceptance Standards", RFJ04-2009 "Civil air defense engineering protective equipment test, testing and quality inspection standards" are produced and installed to ensure the quality and specification requirements of civil air defense engineering. In line with the business philosophy of "quality first, service first, integrity first", the company provides customers with the highest quality protective products, the most rigorous construction and the most complete after-sales service, and strives to build the "Dingli Civil Defense" brand. We will provide users with first-class products and be a reliable partner of investors and construction units. The company is willing to join hands with you to resolutely implement the policy of "long-term preparation, key construction, and combination of peace and war" for civil air defense, and make its own contribution to my country's civil air defense and national defense.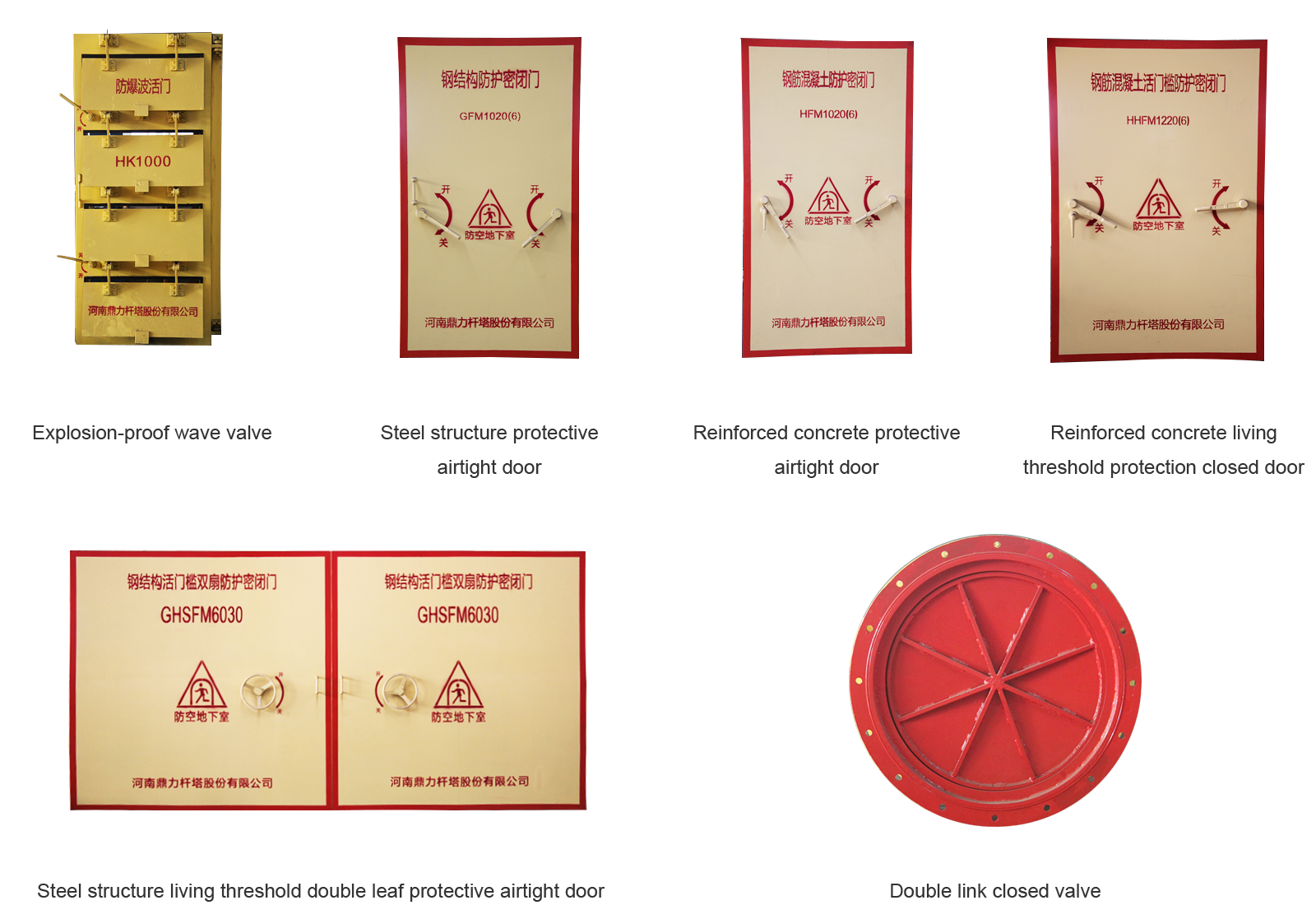 Copyright © Henan Dingli Pole & Tower Co. Ltd. All Rights Reserved
Copyright © Henan Dingli Pole & Tower Co. Ltd. All Rights Reserved